Configuring the NOX GUI
Configuring the NOX GUI Update:
The NOX libraries are not maintained for most distros at the moment. Everything has been stripped out of NOX except for the core implementation as a C++ base for development.  I
recommend
trying either
FloodLight
or
POX
.
Configuring the NOX GUI
To install NOX Destiny branch refer to this post.
To get the little test web page going run the following on startup.
./nox_core -v dummywebpage
then go to in a web browser http://localhost
To run the NOX GUI you can do the following. I am showing the errors you get if you don't have the Python GUI classes loaded.
Start the NOX GUI
Start NOX with the 'monitoring' argument passed.
~/nox/build/src# ./nox_core monitoring
NOX 0.9.1~full~beta (nox_core), compiled Apr 22 2012 02:15:38
Compiled with OpenFlow 0x01
Then find the GUI Py script.
cd <path>/nox/src
root@ub-11:/home/brent/nox/src# ls
builtin gui lib Makefile.in nox nox_main.cc 
tests etc include Makefile.am Make.vars 
nox-gui.py scripts utilities
Run the NOX GUI errors should be expected if you do not have the right Python GUI modules.
root@ub-11:/home/brent/nox/src# ./nox-gui.py
Traceback (most recent call last):
File "./nox-gui.py", line 18, in <module>
from PyQt4 import QtGui, QtCore
ImportError: No module named PyQt4
To fix that error grab a couple packages.
#apt-get install pyqt4-dev-tools 
python-qt4 python-simplejson python-qt4-sq
Then run the Python script again and you will get a GUI pop up for you.
/nox/src# ./nox-gui.py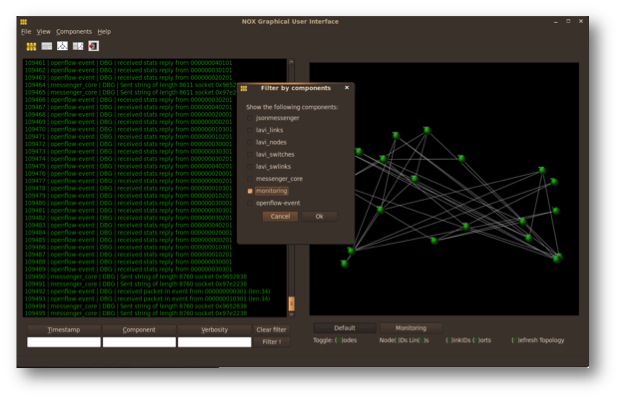 A good beginning tutorial if you dont have any hardware to attach to a controller is over at the OpenFlow wiki. Another option a bit more advanced without gear is installing OpenvSwitch and attaching it to the controller.
Here is one I put together with some different combinations.