Network Field Day 4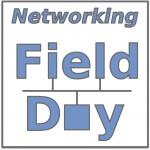 Network Field Day 4 is upon us again! I was honored by the Network Field Day delegates and asked to participate as a delegate in Network Field Day 4 in Silicon Valley starting at 1:30PM PST. Not only do the Field Day event staff record the events but they also live stream the vendor presentations! Even more interesting the incredibly insightful dialogue from the delegates and even some heralded "Snark" from the infamous Tom Hollingsworth. The halls of the past, current and future Field Day delegates are some of the best in the industries of wireless, storage and networking. I am incredibly excited to get to me so many of the folks I look to help shape my hone my knowledge and perspectives on technology.
What separates the men and women that not only I personally hold on a pedestal, but vendors, pundits analyst and investors are far from just the hard skills of IT. First and foremost, they are all friendly humble people that believe in community. In their day jobs, they are most likely the most informed and up to date on industry trends and technologies in the room but they are still humbly considerate of others opinions and treat colleagues with respect. The soft skills of relationship building, humility and teamwork is often lost in such an emerging industry like IT where intellect is perceived as the capital.
Arrogance and rudeness are training wheels on the bicycle of life for weak people who cannot keep their balance without them. – -Laura Teresa Marquez
The community that folks like Stephen Foskett and team have done with Network Field Day and the inspirational work that all of the work that Greg Ferro and Ethan Banks have done with PacketPushers and it's great contributors is shaping more than just the networking industry as we transition into a consumer driven horizontalized paradigm. All of these folks start a second shift nightly often at the expense of time with families to share their knowledge and passion with the fledgling community. As I humbly click the publish button, I thank those who have helped establish this collective thought and debate in the industry we hold dear.
The power of human thought grows exponentially with the number of minds that share that thought. – ― Dan Brown
My bags are packed and vacation days submitted, tune in with us and bring on the the magic!
Any sufficiently advanced technology is indistinguishable from magic. – -Arthur C. Clarke
Network Field Day Event Staff
Network Field Day  4 Delegates
Presentation Calendar
Most presentations are streamed live on this page, at TechFieldDay.com, and at some delegate and presenter web sites. After the event, the following pages contain video recordings of these presentations.